TS Cooling Grass
TS Cooling Grass
When the artificial grass is exposed to the sun, the turf blades will absorb invisible infrared light. This makes the grass surface temperature gets raised. It's proven that the infrared light is the main reason of temperature rise on grass. Based on this, our R&D team introduces heat reflective technology to reflect infrared light for decreasing in heat buildup on grass surface. Turf temperatures can be reduced by 6-10℃. This greatly improves artificial turf cooling especially on hot sunny days.
Case Study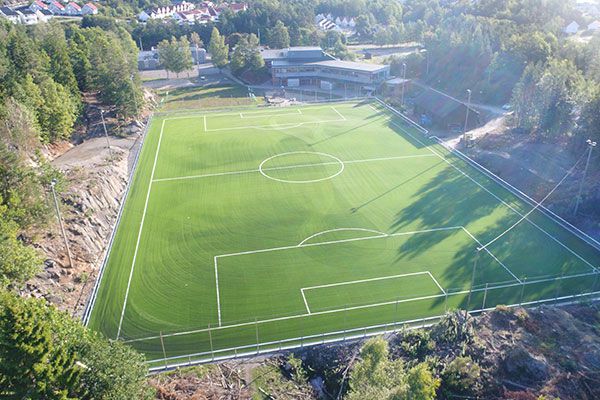 Our artificial turf has been applied in a football stadium in Riyadh, Saudi Arabia. Common turf cannot meet the training requirements since its surface temperature will rise tremendously given that the temperature in Liard stays at a high level in most of the year. This is why our cool turf has been chosen. It allows for daytime training even in extreme hot days since the temperature of the turf surface will stay at a certain level without rising drastically.
Apart from being used in areas with extreme weathers, our synthetic lawn can also be applied in common places, like playgrounds, backyards and commercial and recreational zones.
Taishan Artificial Turf Industry is a wholly-owned Subsidiary of Taishan Sports Industry Group since 1978. We are a one-stop leading manufacturer and wholesaler focusing on R&D, production and sales of artificial sports turf, leisure garden turf, multi-functional negative ion turf. After 46 years of development, Leling Taishan, as the first artificial turf manufacturer in China to obtain FIFA and FIH certifications, has built CHINA TOP 1 modern production base for high-end artificial turf manufacturing.
Related Products