TS 100% Recycle & Hybrid Grass
TS 100% Recycle & Hybrid Grass
Taishan hybrid grass is a natural grass turf reinforced with artificial grass fibres by utilizing a special weaving technology. The 100% recyclable artificial turf can be designed with a backing net with a mesh size of 3mm to 50mm and a pile height of 5 to 50mm.
Excellent stability and water permeability;
Higher traction values than the un-reinforced natural grass;
Uses the same material in the fibres and backing, making it 100% recyclable;
Excellent playing possibilities, even with bad weathers;
Maintained like natural grass;
Applications
The hybrid turf system is widely used for sport stadiums, training pitches, schools, residential gardens, public areas, etc.
Features
100% Recyclable: The hybrid grass can be reproduced into new artificial grass after years of use.
High water permeability: Due to outstanding drainage properties, a great deal of water can be drained within one second, ensuring the turf surface stays dry all the time.
Extremely high durability: A hybrid grass system is a mixture of natural grass reinforced with artificial fibres, which combines all the benefits of natural grass and synthetic turf. The grass reinforcement system creates the optimum growing conditions for natural grass. Featuring high strength and durability, the hybrid lawn stays green all year round.
Low maintenance cost needed due to the combination of natural grass and artificial grass.
Case Study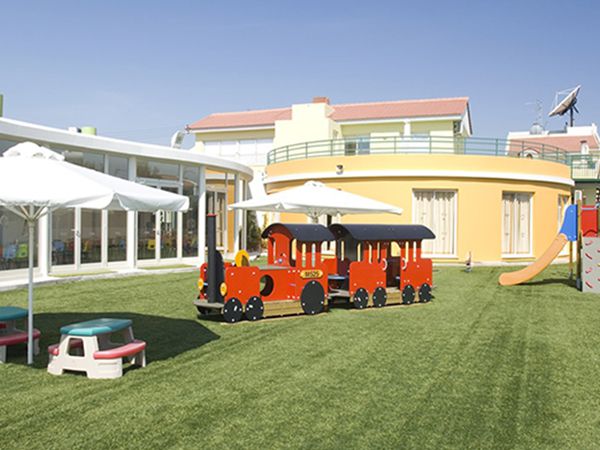 This is the Taishan 30mm mixed lawn installed in a kindergarten in Northern Europe. After the installation, kids can freely play in the area in the rainy day or in winter without worrying over mud. This artificial turf is critically acclaimed since it makes the playground look cleaner and tidier and there is not much need for maintenance.
This case shows how marvellous our natural-artificial grass is, enabling children to play happily on it while reducing labour costs.
Taishan Artificial Turf Industry is a wholly-owned Subsidiary of Taishan Sports Industry Group since 1978. We are a one-stop leading manufacturer and wholesaler focusing on R&D, production and sales of artificial sports turf, leisure garden turf, multi-functional negative ion turf. After 46 years of development, Leling Taishan, as the first artificial turf manufacturer in China to obtain FIFA and FIH certifications, has built CHINA TOP 1 modern production base for high-end artificial turf manufacturing.
Related Products