The Origin of Artificial Turf Product
In the 1960s, the United States started to develop and manufacture Artificial Turf Product. The turf was firstly installed in rugby fields. Soon, it was widely used in soccer fields, baseball fields, and football fields. In the 1980s, the rest of the world began to accept Artificial Turf Product. Until the beginning of the twenty-first century, Artificial Turf Product began to enter the Chinese market, and was well accepted and developed rapidly.
Advantages of Artificial Turf Product
All-weather Property Artificial Turf Product is free from the limitation of weather and geography. It has long service life, and can be used in extreme climate areas, such as cold areas at high altitude, high temperature areas, and highlands.
Simulation Artificial Turf Product is developed and manufactured based on the bionics. It has good simulation, and can provide a comfortable and safe environment for players. Furthermore, the foot feeling and the ball's rebound speed of Artificial Turf Product are similar to those of natural grass.
Installation and Maintenance Artificial Turf Product has low demands towards groundwork. It can be installed on asphalt floor and cement floor within a short period. It features easy maintenance, durability and good water permeability, and is particularly suitable for the stadiums of schools which are in highly frequency use.
Multi-purposes Artificial Turf Product is available in various colors. It is non-fading and durable, and can be used to decorate stadiums, leisure courtyards, roof gardens and more. Besides, filled with silver quartz sand, the turf is very clean. People can sit on it.
Physicochemical Properties After hundreds of thousands of wear tests, Artificial Turf Product only loses about 2-3% of its fibre weight. Having good water permeability, Artificial Turf Product can drain water off within 20 minutes after a heavy rain. Besides, the turf is non-fading, and has good elasticity, flexibility, anti-aging, and wear resistance.
Safety Artificial Turf Product can effectively protect the muscle, ligament, and joint of players. It can reduce impact force and friction force of players when they fall down. Besides, Artificial Turf Product is environmental friendly and sound-absorbing. It can be effectively recycled and has no harmful content.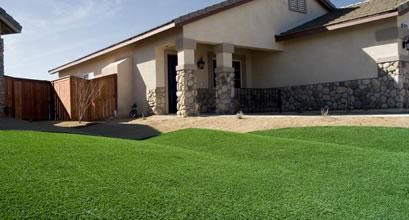 Application of Artificial Turf Product
Artificial Turf Product can be widely used in such places, including soccer fields, tennis courts, basketball courts, golf courses, hockey fields, building roofs, swimming pool, courtyards, kinder-gardens, hotels and more.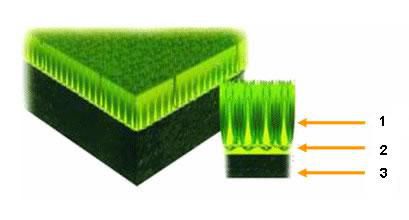 Structure chart of the complete Artificial Turf Product
Fibre
Primary Backing
Coating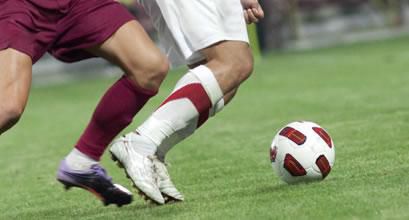 Application of Artificial Turf Product in soccer fields
In the early start, Artificial Turf Product was not designed for football. It was used to overcome the limitations of the natural lawn. Later, the manufacturers began to produce the specialized football turf. Thus, Artificial Turf Product emerged in soccer fields.
The basic manufacturing method of the first generation of Artificial Turf Product is to glue or weave the fiber mixture similar to natural grass on the bottom backings of sand or rubber particles.
After more than ten years of development, Artificial Turf Product has been improved a lot. The properties of high-end Artificial Turf Product are similar to those of natural lawn. Furthermore, the Artificial Turf Product can be used for whole days. It has advantages of anti-static, good elasticity, durability, and more.
From the seasons of 2005 to 2006, Union of European Football Associations starts to allow the competitions to play on the Artificial Turf Product. Hence, the competitions of European Cup, UEFA Cup can be held in Artificial Turf Product. Later on, the International Football Federation had announced that the 2006 World Cup qualifiers could be held on Artificial Turf Product. But this organization requested that the matches played on Artificial Turf Product should be announced two months in advance.
Both and UEFA have approved the high quality Artificial Turf Product can be used in all formal competitions of different levels except the World Cup finals (See table 34). Hence, many top football clubs decided to use the high quality Artificial Turf Product of football field.
Natural turf can be used in competitions at any levels. However, in bad weather, the skills and tactics of football players will be influenced in playing. Besides, in some extreme climate regions, natural turf is not easy to form and maintain. Therefore, Artificial Turf Product's superiority appears.
In the construction of football field, the enough sunshine, rain and wind must be considered in the design project to meet the growing needs of natural lawn. But the current stadium with roof structures is more suitable to be installed with Artificial Turf Product.
Meanwhile, in Artificial Turf Product soccer field, the most attractive actions of players such as starting, dead-stop, turning, interception, sliding tackle, beyond and so on will not be affected by the climate changes.
In the high quality Artificial Turf Product field, the players can make all sorts of actions without worrying about physical damage. Meanwhile, the good Artificial Turf Product field infilled by rubber particles can make shoes have better grasping function and help the players to finish all kinds of difficult actions at will.
The high quality Artificial Turf Product fields possess the characteristics of natural lawn and enable the players to enjoy a safe and comfortable competition condition. As a result of low maintenance cost and wide application, Artificial Turf Product obtains a rapid development.
Taishan Artificial Turf Industry is a wholly-owned Subsidiary of Taishan Sports Industry Group since 1978. We are a one-stop leading manufacturer and wholesaler focusing on R&D, production and sales of artificial sports turf, leisure garden turf, multi-functional negative ion turf. After 46 years of development, Leling Taishan, as the first artificial turf manufacturer in China to obtain FIFA and FIH certifications, has built CHINA TOP 1 modern production base for high-end artificial turf manufacturing.