About Taishan Artificial Turf Industry Company
Founded in 2002, Taishan Artificial Turf Industry Company is a professional Artificial Turf Product manufacturer. We use only the most advanced production lines from companies all over the world to produce our high quality turf. We offer PP Artificial Turf Product, Hockey Artificial Turf, and PE Artificial Turf Product with a pile height ranging from 8 to 75mm, and gauge of 5/32, 3/16, 5/16, 3/8, 5/8, or 3/4. The maximum width of our artificial grass lawn is 5 meters. Our artificial grass can be available either curled or straight, and coated with the backing using latex or PU adhesive.

With the purpose of improving the performance of our artificial lawn and our production techniques, we have not only set up a Technique Center, but also established Huali Taishan Sports-Use New Material Research and Development Center in cooperation with China's top-ranked university, East China University of Science and Technology.
Our research and development strength has enabled us to obtain many of our own patents on our synthetic grass products. We also employ senior Artificial Turf Product experts to provide our customers with professional consultation services and assistance.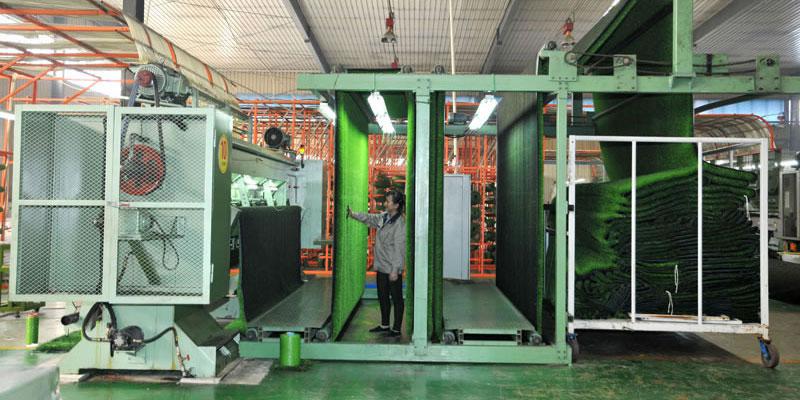 Products and product applications
Taishan Artificial Turf Product Industry Company can produce a variety of artificial grasses, including soccer Artificial Turf Product, Hockey Artificial Turf, Tennis Artificial Turf, Golf Artificial Turf, football Artificial Turf Product, Baseball Artificial Turf, Multifunctional Artificial Turf, Landscaping Artificial Turf, and Airport Artificial Turf. Our synthetic lawns have the properties of good water permeability, wear resistance, flexibility, anti-aging, strong tensile strength, durability, and more, and they are used for ground cover and decoration of homes, communities, highways, airports, and sport fields such as football, hockey, golf, rugby, and more.
Quality control
We implement strict quality control measures on every step of production, from raw material acquisition through each production procedure and we conduct strict Artificial Turf Product tests. Now we are equipped with over 30 pieces of imported inspection equipment to conduct quality monitoring on the whole production process. We also provide continuing employee training to enhance work efficiency and technical skills. Through the use of highly advanced Artificial Turf Product production equipment from world famous companies, we are able to guarantee product quality and production efficiency. For example, we use drawing-wire machines from Austria's STARLINGER, tufting machines from COBBLE in England, back gluers from Australia's CTS, PU coating machines from TRCC of America, and spreading equipment from Germany's SMG.
This is how we are able to provide high quality artificial grass lawn at economical prices.
Certification
We are ISO9001:2008 and ISO14001 certified. We have contributed to the drafting of the Chinese National Standards on Artificial Turf Product. Due to the high quality and performance of our products, we have also received ISA, PONY, and LABOSPORT certificates. Furthermore, our Artificial Turf Product is recommended by FIFA and we are the only company which has received the FIH certificate in China. So our customers can feel secure in purchasing our artificial grass lawns.
International market
Our high quality, affordable products are sold in many parts of the world. We have clients in North America, Latin America, Australia, the Middle East, Eastern Asia, Southeast Asia, South Asia, the European Union, and more. If you are in need of any type of Artificial Turf Product, please contact us for more information.